Free Trial lessons - Try Taekwondo FOR FREE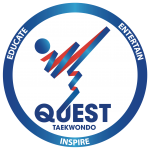 About Quest.
Quest Taekwondo was founded in 1988 by Master Mike McKenzie (7th Dan) and is an established and renowned club throughout the UK. With over 35 years experience, including most notably as Technical Operations Manager for the London 2012 Olympic Games Taekwondo Event, Mike McKenzie offers an exceptional training experience for students.
Master Simon Stockdale (5th Dan) is the chief instructor for Lincoln and Worksop, providing kids and adult classes, 4 days a week.
Gerald Barlow is chief instructor for Retford, providing a mixed age family class.
Quest's lead venue is the Quest Taekwondo Centre based at Oxspring (Nr Penistone), South Yorkshire. However, there are venues in several convenient locations throughout the UK, including Baildon, Boston, Hull, Lincoln and Liverpool.
Search for news by Location